OK first off – it's nowhere NEAR my birthday, Festivus, Kate Appreciation Day, or any other common gift-giving holidays.  HOWEVER, as I am exceedingly fond of my own taste in…(what's the right word?)…STUFF, I thought some of y'all might like to see what's making my credit card itch this week.  Of course it runs the gamut from "incredibly practical" to "in yer dreams, girlie" 🙂
Think of it as an "If I won the lottery, I'd buy…" exercise.
~~~
Morelle Patchwork bag, in orange:
If this isn't the most perfect all seasons knock around bag, then I don't know what is.  That buttery golden orange absolutely couldn't be more gorgeous, and you can see through your computer screen how soft it must be.  I just discovered this today, but I'm already certain that I'll die if I don't obtain it at some point in the future.  I WILL DIE.
~~~
KitchenAid Pasta Maker attachment:
I could make my own macaroni and lasagne! How stinkin' cool is THAT?!  My mixer wants a friend.
~~~
John Fluevog Chinoa boots, in brown:
I blogged these on Two Closets a few weeks ago.  Then I visited them in person two weekends ago.  And now they WON'T GET OUT OF MY BRAIN.  I ❤ these boots so freaking hard I can hardly stand it.  J'adore everything about them.
~~~
Rivendell Necklace by PoleStarJewelry on Etsy:
I've been following this lovely lady's Etsy shop for about a billion years, and continue to be in awe of her gorgeous work.  LOVE the wire wrapping and the beautiful stones.  (Like in the Artemis Necklace, too! WOW!)  Each piece seems like a real treasure, and hopefully some day one of these treasures will be mine…
~~~
Only I would put this little darling in my kitchen – I have just the spot picked out for it – and listen to music while I bake and it would keep me company if/when Jeff runs off across the country for a summer internship.  Seriously, if he interns in Minneapolis or something I'm going to buy one of these.  And maybe between it and the dog I can prevent myself from going *completely* stir crazy.
~~~
This belt, by AudraJean (aka Audi, aka Fashion for Nerds):
(only maybe custom done in black)
Is that not the most awesome belt you've ever seen? EVER?  I know, right?  (click through the link to see an amazing back view of it).  I can think of about 45 outfits I'd wear this with, RIGHT. NOW.
~~~
A huge-ass print of Miranda, The Tempest (JW Waterhouse, 1916) to hang over our sofa:
Isn't that beautiful?  I *love* PRB
~~~
For next winter (and I'm well aware that this is the second pair of "OMG NEED" boots in this post…), LLBean shearling lined weatherproof boots: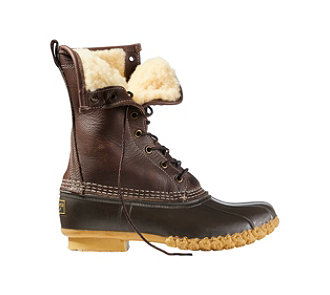 I have a pair of Wicked Good scuff slippers that are shearling lined, and they're about 10 years old and still as warm as they day I got them (for Christmas).  The website says these boots will be back in stock on May 27th, and I may seriously buy them then.  And wait 'till next winter, then style them like What Would a Nerd Wear does.  Because isn't she adorable?
~~~
Le Creuset 3-qt enameled cast iron saucepan:
I'm pretty sure that with this, my dutch oven, my 2 qt copper-bottomed pan, my wok and my $12 cast iron pan, I'd be set for cookware for life. (not for bakeware, mind you.  Just cookware).  Well, a cast-iron two burner griddle would be nice, too.  And a tiny cast iron pan.  And maybe a 1 qt copper-bottomed pan.  But THEN I'd be set.
~~~
Finally, another tattoo.  And that's all I'll say about that for now 😉
So that was a fun little romp through my imaginary shopping list, no? What's on your list (real or fantasy)?
And now, if you don't mind, I'm off to buy a Powerball ticket…